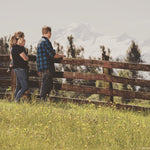 Exciting news and changes ahead!
It has been such a privilege to work to provide quality meat for our community and to continue to do that we knew we had to make some changes so....
We have sold our small piece of land in Abbotsford and are packing up everything we own and all our animals and are moving our crew up to the Salmon Arm area to live in a trailer. 
If this comes as a surprise to you, it does to us as well! We had been looking at land in the Fraser Valley for many months now, but the prices were out of reach and it didn't make sense for how we raise our pasture raised animals. 
Matt found a beautiful chunk of land, we put our house up for sale, it sold this week and we are moving at the end of the month! And yes we are doing this with a 3 month old baby and a toddler!
So it's a whirlwind at the moment! Please be patient with us as we adjust our delivery dates and work to make sure the move is seamless for our animals. The next delivery day will be August 20th.
While our location is changing, how we farm, the service we provide, the quality of our meat and the care of our animals will remain the same. 
We will still be providing to your door delivery and will be attending the Farmers markets.
We appreciate your continued support and stay tuned to more information on our new adventure. We will need your support and encouragement as we make this leap!! 
We will still be offering delivery to the lower mainland for a flat rate of $20 shipping with a minimum order of $150. Starting in August, we will be offering local pick up in Salmon Arm on Fridays!
Our New Delivery Locations:
SALMON ARM: This includes, Salmon Arm and Canoe.
SOUTH OF SALMON ARM: These areas include, Armstrong, Vernon, Lake, Country, and Kelowna.
LOWER MAINLAND:
Abbotsford, Chilliwack, Langley/Fort Langley, Aldergrove, Surrey, White Rock, Cloverdale, Delta, Ladner, Tsawassen, Mission, Maple Ridge, New Westminster, Pitt Meadows, Port Moody, Coquitlam, Port Coquitlam, Burnaby, Richmond, Vancouver, North Vancouver, West Vancouver, Belcarra
If you don't see your community listed here, please contact us directly.
Sign up for our upcoming e-newsletter to be the first to know our news and to stay updated on all things Reverent Acres.
With Gratitude,
Matt and Kim