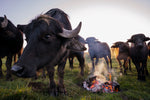 With Black Friday hype happening everywhere you look we encourage you to support local. To shop for change and look at how your food is produced whether its the vegetables you are buying or the meat and dairy as well as the gifts you are buying for Christmas. 
Support local and support small scale farms and businesses. Your support no matter how small or big makes an important impact in their business.
Some of our favourite places include:
The Local Harvest grows and produces quality food and the advocate and educate the public on the importance of local food systems and promote the development of local agriculture and food production.
Central Park Farms and Aslan Organics have been huge encouragements to us over the last few years! It's amazing how smaller scale producers work as team and rarely consider the other competition. Thanks guys!
The Raving Gamer, Chef Adrian Beaty and Restuarant 62 have been great partners and advocates for supporting local growers and their food is fantastic!
And in the last week, I was able to get my hands on some soaps that I cannot wait to try! Check out Coglan Cottage Farm and Rawdon Creek Soaps for some unique gifts and regular household staples!
We always love hearing what places you love to support and then getting to check them our ourselves so shoot us a message with your favourite places to shop and eat!