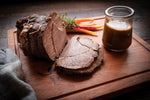 Roasts are one of my absolutely favourite dinners to have and with this new recipe from FoodBC on our website, I can't help but have it weekly. This grass fed Water Buffalo roast just falls apart and is full of flavour. While our recipe calls for a Sirloin Tip Roast, we have enjoyed it equally with both the Round Roast and the Chuck Roasts
We are often asked how to describe the taste of Water Buffalo meat and quite honestly it is incredibly similar to grass fed beef. When we made the switch from raising grass fed beef to raising water buffalo meat, we had both types of meat in the freezer and would play a "guess the meat" game with our meals. It surprised us that usually the stronger meat would end up being our grass fed beef and not our water buffalo. 
We went out to Restaurant 62 last week and compared their beef striploin with their water buffalo striploin, and again water buffalo was the winner (and this came from my father-in-law which was quite the surprise to us!) 
If you want to give it a try, head on over to our website to order meat online for farm gate or delivery or find us Sunday, December 15 at Port Moody Farmer Market (and every second Sunday following that). We have a good deal online and at the market for 10% off our Roasts, Stir Fry meat, Stew Meat and Ground Water Buffalo. You can also check out our Butcherbox or Value box selection. The Family Pack and the Water Buffalo Sampler both include our Roasts!