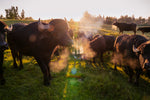 I'm not sure about you but I usually have mixed feelings about September. Summer has come to an end, the days are shorter and the mornings are a cooler and often covered with that autumn layer of mist. School is back in session and life is quickly falling into a new routine whether we are ready for it or not!
If you are looking for some help transitioning into the fall routine, we have you covered! We are all stocked up on pepperoni (original and *new* honey garlic flavours) and our new water buffalo sausage and both are perfect for lunches or feeding starving kids when they get home from school.
Our stock for steaks is running low, but we still have some boneless rib-eyes available for those trying to steal the last days of summer!
Ready to embrace fall or even if you are still on the fence our stewing and stirfry meat that transition beautifully from summer veggies into the hearty fall veggies on the way into stores and farmers markets all around us. 
All our water buffalo meat is grass fed and grass finished and raised in the Fraser Valley.
New Products
We are thrilled to offer a Back to School Box filled with the foods we use as we transition back into that good old routine. Our family's go to foods include Pepperoni, Sausage, Stewing meat, Stirfry meat, our naturally lean buffalo ground and roasts. Our Back to School Box qualifies for free local delivery to your door (but orders must be in by Mondays at Midnight for Thursday delivery).