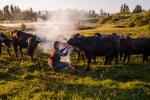 Our goal is to build a community both online and offline to help others learn about the health benefits of our grass fed and finished water buffalo that are free from antibiotics, hormones, and GMOs. We have personally experienced a dramatic change in our lives by paying closer attention to the food we put in our body and how it affects our health.
Within our first year of marriage we experienced many negative changes to our health and began to consider the quality of our food. Our mission to eat healthier started the dream that became Reverent Acres. Buffalo became an important part of our diet when we found out how much more healthier buffalo meat is compared to beef. Compared to beef, buffalo meat has lower cholesterol and has been found to be higher in nutrients - especially when it's grass fed!
Our experience with changing the food we eat changed our lives for the better. It's very important to us to help educate others on the positive health benefits eating grass fed and finished buffalo can have. This new website and it's information and resources is part of that goal.
New Website Pages
Ever wondered what the difference is between a buffalo or a bison? Check our page on water buffalo!
Looking for some new buffalo recipes to add to your recipe box? We've started to compile ours and our community's favourite recipes – what's your favourite recipe? Leave it in the comments below.
Want to learn what grass fed and finished means and other buffalo frequently asked questions? Our new FAQ page is for you.
We love being apart of the community of Abbotsford and hope to share the benefits of buffalo meat with our neighbours. Our new Where to Find page will let you know where you can enjoy Reverent Acres buffalo meat in other locations from restaurants to farmers markets.
Sign up for our upcoming e-newsletter to be the first to know our news and to stay updated on all things Reverent Acres.
And last but not least we've launched a brand new e-commerce store to make your life a little easier by delivering our delicious buffalo meat - right to your door!
We are truly grateful for all our customers and supporters past and present who have helped grow Reverent Acres from a dream to a reality. Thank you for your patronage and we look forward to serving you and our local community in Abbotsford and surrounding areas in the years to come.
With Gratitude,
Matt and Kim