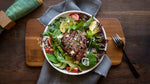 This recipe is simple. Because it's all about the 'meat'. The meat carries whatever is underneath. Fill your bowl with crunchy greens and tomatoes and even add grilled veggies such as green beans and asparagus. Another kick comes from crumbled Mount Lehman Blue D'Buf cheese. It adds that 'pucker-up' lip-smacking taste finale to the sesame grilled steak.
Ingredients
Sesame Steaks:
2 Reverent Acres sirloin steak, about 6 oz (170 g) each 
2 Tbsp (30 mL) toasted sesame oil
2 Tbsp (30 mL) sodium reduced tamari soy sauce 
1 Tbsp (15 mL) lime juice 
1 Tbsp (15 mL) finely minced peeled gingerroot 
2 garlic cloves, smashed and minced 
½ tsp (2 mL) crushed dried red chillies 
Salad:
Assorted sliced tomatoes, preferably heirloom  
Assorted leafy greens
½ sliced unpeeled cucumber 
1 small shaved and peeled shallot
2 Tbsp (30 mL) good quality extra-virgin olive oil
1 Tbsp (15 mL) good quality balsamic vinegar 
Salt and freshly ground black pepper 
2 whole green onions, thinly sliced
2 Tbsp (30 mL) crumbled Mount Lehman Blue D'Buf cheese 
Toasted sesame seeds
Instructions
In bowl combine sesame oil, soy sauce, lime juice, ginger, garlic and chillies. Whisk to blend. Add steaks and rotate several times to evenly coat meat with marinade. Cover and refrigerate for several hours, preferably overnight. 
Shortly before grilling steak to serve, compose tomato, cucumber and leafy greens on a large platter adding any grilled vegetables you have on hand. Drizzle with olive oil and balsamic. Lightly season with salt and pepper. Gently toss and scatter with green onions. Set aside.    
Grease BBQ grill and preheat to medium high. Remove steak from bowl discarding marinade. Place steak on greased grill. Grilling time depends on thickness of steak, grilling method and preference. For gas grill, BBQ for 9 to 12 minutes for medium rare steak that's about 1-in (2.5 cm) thick. Turn once, avoiding turning again and again as it affects the quality of the end results. But watch carefully as BBQs vary in heat. 
Remove steak when 'almost' done to your liking and rest on a board for up to 5 minutes as it will continue to cook off the grill.
Thinly slice grilled steak across the grain and arrange over salad. Sprinkle with crumbled cheese and toasted sesame seeds and serve. 
Serves 4.