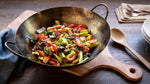 This is the perfect dish that starts with eye appeal and ends with complete satisfaction. The beauty of water buffalo is that it carries so many favours from mild to robust. This recipe is simple – adding a 3 ingredient stir fry sauce that marries everything together. Avoid using a BBQ sauce that's too sweet as it will make the recipe too cloying. Eyes, aroma and taste – a trio that makes a recipe go wow! 
Ingredients
3 Tbsp (45 mL) prepared good quality BBQ sauce
2 Tbsp (30 mL) maple syrup
2 Tbsp (30 mL) sodium-reduced tamari soy sauce 
3 Tbsp (45 mL) grapeseed or avocado oil, divided
1 lb (454 g) Reverent Acres water buffalo strips, cut into, thin bite-sized pieces
2 Tbsp (30 mL) finely minced peeled gingerroot 
2 garlic cloves, smashed and minced 
Salt and freshly ground black pepper
2 medium carrots, peeled and cut thinly on the diagonal
½ large red onion, cut into wedges 
2 stalks celery, thickly cut on the diagonal
1 red bell pepper, cored and cut into strips
1 yellow bell pepper, cored and cut into strips 
1 cup (250 mL) sugar snap peas
3 Tbsp (45 mL) minced fresh parsley
¼ tsp (1 mL) crushed dried red chillies 
Instructions
In small bowl combine BBQ sauce, maple syrup and soy sauce. Stir to blend and set aside. 
Swirl 1 Tbsp (15 mL) oil around inside of wok over high heat. When wok begins to smoke, add sliced water buffalo in single layer. Sear for 2 minutes, then stir and continue to stir fry for 2 more minutes until almost cooked. Add gingerroot and garlic and stir fry for 1 minute. Season with salt and pepper and drizzle with half the prepared BBQ sauce mixture and stir in. Remove to a large heated dish and cover to keep warm.  
Wipe wok clean with paper towels. Return to burner adding another Tbsp (15 mL) oil. When piping hot, add carrots and stir fry for 2 minutes. Add a splash of water and cover with lid. Cook for 3 more minutes or until carrots are crisp tender. Add to large dish containing cooked meat strips and cover. 
Add another Tbsp (15 mL) oil and when piping hot add remaining vegetables except for parsley and crushed chillies. Stir fry uncovered over high heat for 5 minutes or until tender crisp and onion is slightly golden.   
Return meat and carrots to wok and drizzle with remaining sauce. Stir fry over high heat for 1 minute or until piping hot. Serve in large shallow bowls with minced fresh parsley and crushed chillies. 
Serves 6.