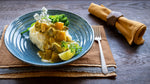 Anyone can make curry from a jar of curry paste and can of coconut milk. But this curry beats it as it has all the bits to make it sensational. And it's dead easy. The heat in this dish depends on your taste buds. Can you handle bird's eye chillies? Add 1 for comfort, 2 for heat, and maybe 3 for hair on fire. Reduce the impact removing seeds from chillies before adding to recipe. (Use gloves!) Start with one chili when you make this dish the first time. You can always add more heat to a recipe. But not take it out. Although the beauty with chillies is that if it's too hot you can simmer the heat out over time. Although it compromises the other ingredients and wears them out. 
Ingredients
1 lb (454 g) Reverent Acres water buffalo stewing meat 
Sea salt and freshly ground black pepper 
2 Tbsp (30 mL) coconut oil or extra-virgin olive oil, plus extra 
1 tsp (5 mL) coriander seeds 
½ sweet onion, peeled and coarsely chopped 
1 to 3 bird's eye chillies, chopped
1-in (2.5 cm) piece peeled gingerroot, chopped
4 garlic cloves, chopped
1½ Tbsp (22 mL) medium curry powder 
1 tsp (5 mL) turmeric 
½ tsp (2 mL) chili powder 
1 cup (250 mL) water 
400 mL can coconut milk 
2 cups (500 mL) peeled and cubed squash 
¼ cup (60 mL) blend of chopped fresh cilantro, mint and parsley
Lime wedges, optional
Mashed potatoes or rice, optional
Broccolini, optional 
Instructions
Pat meat dry with paper toweling. Lightly season with salt and pepper. 
Heat oil in large heavy saucepan. Add stewing meat in batches and gently brown. Remove as done to a separate dish. Set saucepan aside. 
Add coriander seeds to a small, dry hot pan and toast over medium-high heat until aromatic, about 1 minute. Stir often. Transfer to a mini food processor. Add onion, chillies, gingerroot and garlic to coriander seeds. Whirl contents into a paste. Add 2 Tbsp (30 mL) water if needed. 
Heat 1 Tbsp (15 mL) oil in saucepan used for cooking meat. Add onion paste and fry over medium high heat, stirring often until almost cooked dry and bubbly. Stir in curry powder, turmeric and chili powder and stir until crumbly and fragrant. Stir in water until bubbly. Add lightly browned water buffalo and bring to a gentle boil. Reduce heat to simmer, cover and gently cook for 30 minutes. Stir occasionally and watch carefully that it doesn't cook dry. Add a splash more water if needed. 
After 30 minutes, stir in coconut milk and squash. Bring to a gentle boil. Cover and reduce heat to simmer. Cook for 15 or 20 more minutes until meat and squash are still firm but fork tender. Stirr occasionally to be sure it's not sticking.
Delicious served over mashed potatoes or rice. Serve with steamed broccolini and lime wedges. Dust with fresh herbs. 
Serves 4 to 6.