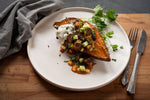 Quick and easy - especially if you use your slow cooker! You can even cook this meal with meat still frozen in your freezer. Get your superfood on with the low cholesterol benefits of buffalo meat combined with the anti-inflammatory and other health benefits of yams.
Ingredients
1 package of Water Buffalo Stew Meat (could substitute browned (cooked) Ground Water Buffalo as well)
2-3 cups of Water Buffalo Bone Broth (could substitute other broths as well)
4 medium-sized fresh tomatoes quartered
1 cup of frozen corn
2 cans black beans
1 package of Spiceworks Mexican Chilli mix (or your own combination of chilli powder, garlic, onion powder, salt, pepper and cumin
Toppings (optional)
We love topping with sour cream, Caliente chipotle sauce drizzled on top, avocado and chives
Instructions
Place it all in the slow cooker and cook 5 hours on high. Even if the buffalo meat is frozen!
Bake 4-6 yams until fork tender
Top with your choice of toppings.