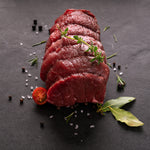 (from @innerpeasmarketgarden)
We love following along with our fellow local farmer Ashlee's Inner Peas Market Garden journey on Instagram and Facebook. Ashlee gives Inner Peas a chance with natural and regenerative vegetable farming methods.
Ingredients
Salt brine
Potatoes
Carrots
Celery
Leeks
Salt
Pepper
Fresh rosemary
Fresh thyme
Instructions
Salt brine the roast for 24 hours
Pan sear the roast on all sides to keep the juices in
Season the roast with salt, pepper, fresh garlic, fresh rosemary and thyme
Place rack in roasting pan and surround with potatoes, carrots, celery and leeks in the bottom of the roasting pan with 1 cup water
Place the seared and seasoned roast on the rack in the roasting pan.
Use a meat thermometer and roast to an internal temperature of about 123-125 degrees Fahrenheit. Check regularly to avoid overcooking!