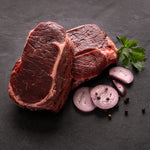 Great for roasts and steaks on the BBQ! Leave this marinade on your steaks for up to 4 hours before cooking for a tender and delicious water buffalo steak.
Ingredients
½ cup fresh squeezed lime juice
2-4 cloves crushed garlic
2 small diced chilli peppers (more if you like it hot!)
Instructions
Combine and heat on the stove over medium heat. When it begins to simmer remove it from heat.
Divide sauce in half and spoon over buffalo steaks or roasts while grilling on the BBQ.