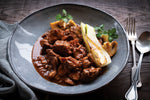 A simple 15 minutes sautéing and this oven baked dish is hand's free. Pop in the oven and let it do its magic. So healthy, hearty and satisfying. Make up a double batch and freeze in small containers… or not. Because it will be quickly savoured! Top with a dollop of water buffalo yogurt and sliced avocado… chopped tomato and cilantro.  
 Ingredients:
4 strips bacon, diced
1 medium sweet onion, diced
2 large cloves Reverent Acres Russian garlic, smashed and minced
1 Tbsp (15 mL) grapeseed or avocado oil, plus extra if needed
½ lb (250 g) white mushrooms, quartered
2 lbs (1 kg) Reverent Acres water buffalo stewing meat
2 cups (500 mL) Reverent Acres bone broth
2 Tbsp (30 mL) chili powder
1 Tbsp (15 mL) dried oregano
2 tsp (10 mL) ground cumin
1 tsp (5 mL) hot smoked paprika
½ tsp (2 mL) kosher salt
2 Tbsp (30 mL) tomato paste
Instructions:
Preheat oven to 350 F (180 C).
In large, heavy-bottomed saucepan with tight-fitting lid, add bacon and cook over medium heat, stirring occasionally, until bacon is slightly crisped. Using slotted spoon, remove to large bowl.
Add onion and garlic to saucepan and sauté in bacon fat over medium heat until it begins to soften. Add a splash of water if it begins to stick.
Add mushrooms to onions and sauté until mushrooms begin to turn slightly golden. Add a little oil if needed to prevent it from burning. Using slotted spoon, remove to bowl with bacon.
Add several cubes water buffalo stewing meat to saucepan and lightly brown, adding a splash more oil while browning, if needed. Remove to bowl with bacon and mushrooms and repeat until all stewing meat is lightly browned.
When all meat is lightly browned, add ½ cup (125 mL) bone broth to saucepan, whisking up the delicious brown bits from bottom of pan. Sprinkle with seasonings and whisk in until smooth and it begins to bubble. Slowly whisk in remaining broth and tomato paste and bring to a gentle boil. 
Tumble bowl with bacon, onion, garlic, mushrooms and meat into saucepan, along with any juices that may have collected. Bring to a gentle boil. Cover tightly with lid and bake in centre of preheated oven for 45 minutes. Remove lid. Give it a stir and continue to bake, uncovered, for 30 more minutes, or until meat is fork tender and juices reduced.       
Savoury Chili is unbelievably delicious ladled over creamy parsnips and potato mash, noodles or rice with a side order of roasted vegetables or salad.         
Serves 6.